Fortefy Thermo & Thermo HD Rigid EPS Insulation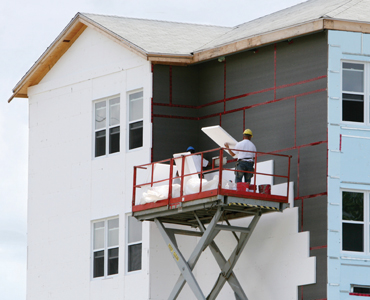 Fortefy Thermo & Thermo HD rigid insulation is an expanded polystyrene (EPS) insulation manufactured to meet or exceed CAN/ULC-S701 Standard for Thermal Insulation, Polystyrene Boards and pipe Covering, Type I and Type II, and ASTM Standard Specification for Rigid Cellular Polystyrene Thermal Insulation.
Advantages
​

Meets all building code requirements
​

Meets CAN/ULC-S701, Type 1 (Thermo) and 2 (Thermo HD)
​

Closed cell insulation is moisture resistant to provide long term durability
​

Lightweight for easy installation
​

100% recyclable
​

Inorganic: does not support the growth of mold and does not off gas
​

Cost Effective/Low cost per R- Value
​

Butt Edge or Shiplap
​

Thermal Resistance – Thermo RSI .65 25 mm (R-Value 3.75/inch) Thermo HD RSI 0.70/25 mm (R-value 4.04/inch)
​

Available in 2' x 8' and 4' x 8' sheets, various thickness. Bundles up to 30" in height.
Applications
​

Foundation walls
​

Exterior walls
​

Under concrete slabs
​

Roofs including Green Roofs
​

Thermo can be used for Arts and Crafts, signage and packaging applications
Thermo HDS High Density Rigid EPS Insulation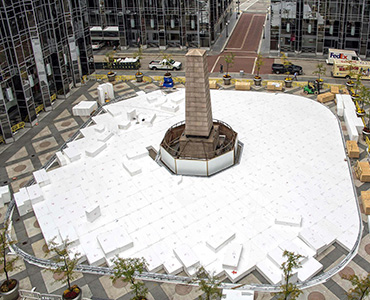 Fortefy Thermo HDS High Density Rigid insulation is a closed cell expanded polystyrene (EPS) insulation that meets or exceeds the requirements of CAN/ULC-S701, Standard for Thermal Insulation, Polystyrene, Boards and Pipe Covering.
The closed cell structure of EPS insulation resists water absorption resulting in retention of its R-value in applications where severe temperature differentials occur.
With compressive strengths ranging from 20 PSI to 40 PSI, the HDS line of insulation is ideal for use in applications where heavy live and dead loading is expected.
Advantages
​

Meets all building code requirements
​

Meets and/or exceeds CAN/ULC-S701, Type 2, Type 3
​

Minimum Thermal resistance - RSI 0.70/25 mm (R-value 4.04/inch)
​

Closed cell insulation resists moisture and retains thermal value.
​

Available in 2' x 8' and 4' x 8' sheets, various thickness. Bundles up to 30" in height.
​

High compressive strength. Between 140 kPa (20 psi) and 275 kPa (40 psi). Its dimensional stability absorbs the movement of buildings.
​

Stable and long term thermal efficiency even when subjected to severe freeze-thaw cycles. Substantial energy savings.
​

Excellent resistance to moisture. Retention of Thermal value.
​

Lightweight for ease of installation.
Applications
​

Under Commercial and Industrial Concrete Slabs (perimeter and throughout)
​

Vertically on the face of foundation walls
​

Sidewalks and platforms
​

Community Centres and Skating Rinks under slab
Fortefy GEOfoam EPS Billet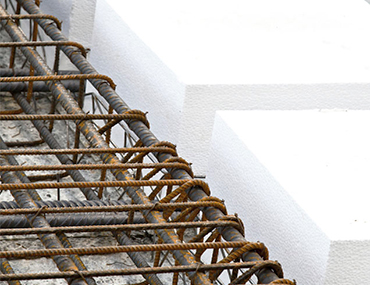 Fortefy Geofoam is an expanded polystyrene billet manufactured from closed cell rigid expanded polystyrene. Designed for use in geotechnical applications to act as lightweight fill for projects such as slope stabilization, soil fill for road beds and as void filler for stadium seating applications.
A dimensionally stable product resistant to freeze-thaw cycles, it has low moisture absorption properties and is non-biodegradable enabling it to provide support over soils with low bearing capacity.
Advantages
​

Dimensional Stability, exerts little to no lateral load on retaining structures
​

50 to 100 times lighter than comparable light weight fill materials
​

Cost Effective
​

Low Moisture Absorption
​

Quick installation
Applications
​

Bridge Abutments
​

Road Embankments and sub grade fill
​

Stadium Seating and Theatre Seating
​

Retaining Walls
​

Utility Protection
​

Green Roofs
​

Noise and vibration dampening
​

Foundations
​

Slope stabilization
Thermo Flo Exterior EPS Foundation Insulation & Drain Board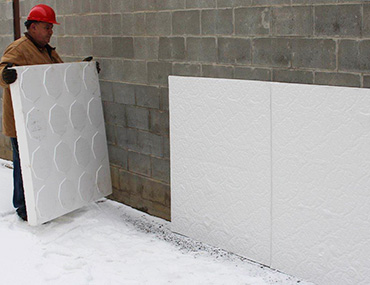 Thermo Flo is an exterior residential and commercial foundation wall insulation and drain board. When used with an approved below grade damp proofing system, it allows water to flow to the drainage system while providing additional thermal performance.
Advantages
​

R4 Per Inch Type II
​

Retains Thermal Properties throughout Life Cycle
​

Protection for Damp Proofing Systems
​

Exterior Insulation helps to reduce the risk of cracking in the concrete wall
​

Meets CAN/ULC S701 Type II
Applications
​

Commercial Foundation walls
​

Residential Foundation walls
Fortefy EPS Buoyancy Foam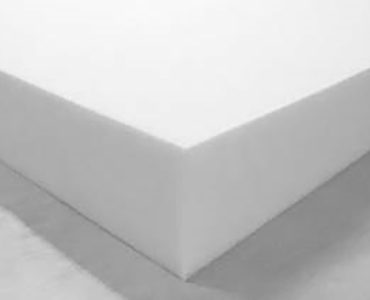 Low water absorption qualities make Fortefy Buoyancy Foam the perfect choice for constructing floating docks, rafts, boathouses, and pontoons for floating homes.
Blocks are manufactured in a standard 32" x 48' x 96" block, with custom shapes and sizes available upon request. Billets are typically covered with a marine grade coating to protect the EPS from minor damage and exposure to petroleum products.
Advantages
​

Fortefy Buoyancy Foam supports up to 55lbs per cubic foot
​

Low water absorption
​

Lightweight, easy to install
​

Environmentally friendly; inert material does not leach any substances into the surrounding environment.
​

Maintains its physical properties over time
​

Both fresh and salt water application
E.I.F.S Billets
Exterior Insulated Finish Systems (E.I.F.S.) are insulated, multi-layered wall systems for use on both commercial and residential construction. These systems consist of an expanded polystyrene substrate that is fastened to the exterior wall surface, a base coat applied to the EPS and reinforced with fibreglass mesh, and synthetic stucco finish coat applied on top of the base coat.
E.I.F.S. systems allow flexibility of design and by putting the thermal mass of the structure on the inside of the insulation envelope, provide superior thermal performance over other cladding systems.
Advantages
​

Forte EPS Solutions' E.I.F.S. grade EPS is manufactured to specifications as outlined by the EIFS Council of Canada -"EIFS Standards for Products and Installation".
​

Conforms to S-102 and S-701 Standards for foamed plastics
​

Dried in a climate controlled room for dimensional stability and moisture content*
​

Forte EPS Solutions has the capability to produce all of the various E.I.F.S. manufacturers' rear ventilated drain systems.
Fortefy Thermo PEX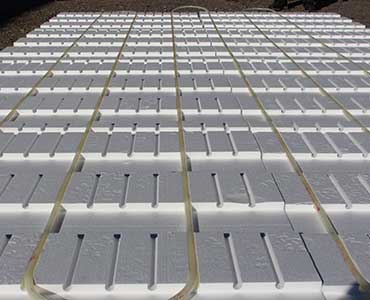 FORTEFY Thermo Pex is designed for use under concrete slabs as insulation and a guide for snapping in Pex pipe for heated floors.
Advantages
​

Available in 48" x 48" (1219 mm x 1219 mm) using type II EPS
​

Available in two thicknesses:
• 2.5 Inch Board – overall thickness of 3.5 inches (stud height = 1 inch). R-value of 10+
• 4 inch Board – overall thickness of 5 inches (stud height = 1 inch). R-value of 16+
​

Can be used with Pex-pipes of the following diameters:
• 3/8" (9.5 mm) • ½" (12.7 mm) • 5/8" (15.9 mm) • ¾" (19.1 mm)
​

Typical spacing for Pex-pipes in multiples of 3" on center (76 mm)
​

Insulation for under slab applications
​

Lightweight for Quick Installation
​

Locally Manufactured
Custom EPS Packaging & Shapes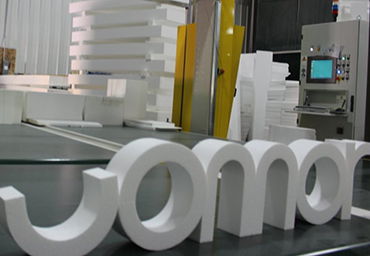 Expanded polystyrene's flexibility makes it an excellent choice for lightweight packaging applications and for custom architectural shapes. Our CNC guided hot wire cutting equipment can precisely cut custom two dimensional shapes providing tolerances of less than a 16th of an inch, creating architectural elements ( mouldings), exterior decorations, custom signs, theatre set back drops, or packaging products for flat pack and/or thermal packaging applications.
Packaging and other manufactured components can take almost any shape and can be integrated with other materials to provide the required protection. We can reproduce from existing samples or help design new components from client supplied drawings. And all our EPS products are 100% recyclable.