Fortefy Geofoam EPS Blocks chosen for PPG Place Ice Rink in pittsburgh - case study
PPG's Popular Outdoor Ice Rink Replaced with New Larger Rink utilizing Fortefy Geofoam EPS Blocks from Forte EPS of Ontario...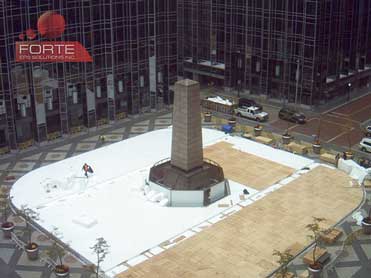 The MassMutual Pittsburgh Ice Rink at PPG Place was replaced with a brand new larger ice rink:
The new $1 Million ice rink is 116' x 116' – 25% larger than original rink.
All new dasher boards, ice mat, chilling and operating systems.
The new rink is 67% larger than the Rockefeller Center ice rink.
700 pairs of new skates were purchased this year.
The new ice rink is two-thirds the size of a standard National Hockey League rink.
Accommodates over 40% more skaters than previous years.
Everything Ice based in Pittsburgh, PA was in charge of the construction and installation of this project and Forte was chosen as the Geofoam supplier because each eps block required individually tapered cuts and Forte were experienced enough to take this on successfully. Forte EPS Solutions of Ontario are renowned for their reliability, consistency and accuracy, utilizing the most modern 2D cutter, and with Zero room for error on this project – Forte EPS were up for the challenge.
Each Geofoam EPS block was individually labeled to ensure that the installation was faster, reducing the amount of labor and time to complete this project. Forte's Geofoam is very lightweight and also acts as an excellent insulator, keeping products cold or warm, depending on the application and in this case, reducing energy costs and increasing operating efficiencies for the ice rink.
By using Fortefy Geofoam Thermo High Density EPS insulation, the project replaced 50 truckloads of dirt (used on the previous installation) with only 9 truckloads of geofoam. Being that the PPG Ice Rink is seasonal, the use of Geofoam speeds up the take-down procedure measurably over having to remove massive amounts of dirt. This again saves on time, labor and trucking costs.
View the time-lapse video on YouTube and see how this project was such a success with Forte EPS Geofoam blocks from start to finish.
​
​













​

​

​GET A QUOTE FOR CUSTOM EPS FOAM