Industries SERVICED BY Forte EPS Manufacturers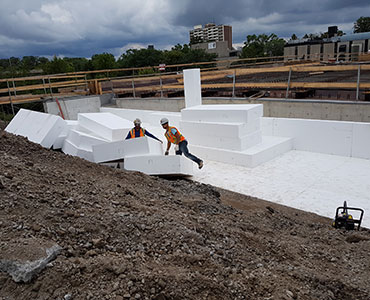 Expanded Polystyrene, commonly known as EPS foam in North America, is a light weight, closed-cell, semi-rigid and highly insulating cellular plastic based material. Comprised mostly of air, EPS foam exhibits physical and mechanical properties rendering it an excellent choice of material for numerous industries and applications, especially for insulation in construction projects, protective insulating packaging for food and general packaging products offering high impact protection for sensitive contents.
Expanded Polystyrene is the perfect solution for a broad range of industries including:
​

Construction
​

Arts & Crafts
​

Retail & Film
​

OEM (Original Equipment Manufacturers)
What is EPS FOAM or Expanded Polystyrene?
Expanded Polystyrene, commonly known as EPS in North America, is a light weight, closed-cell, semi-rigid cellular plastic material. EPS exhibits physical and mechanical properties which render it as an excellent choice of material for several industries and applications.
Main Physical and Mechanical Characteristics of EPS FOAM
Expanded Polystyrene has many desirable physical and mechanical properties such as:
​

Superior long term thermal resistance
​

EPS is an inert material and is dimensionally stable
​

Excellent Buoyancy
​

Excellent moisture resistance
​

Light weight and easy to handle
​

High compressive strength relative to its weight
​

Versatile material and can be molded or cut into a multitude of shapes and forms
​

100% recyclable
​

Ozone friendly. Does not use CFC's or HCFC's in the manufacturing process
​

Cost effective with a relatively Low cost per R-value (R-value is a measure thermal insulation)
Applications of EPS FOAM for specific industries
Construction
The majority of EPS production in North America is used in the construction industry in several applications including:
​

High density EPS insulation panel products
​

Thermal insulating material for exterior/interior below and above grade walls and roof structures
​

Thermal insulating material of floors and slab on grade
​

Main substrate material for stucco and exterior insulating finishing systems (EIFS)
​

Thermal insulation for radiant floor heating
​

Insulated concrete forms (ICF's) for walls and floors
​

Structural insulated panels (SIP's)
​

Garage door insulation
Geofoam
Due to its light weight, dimensional stability and high compressive strength, a special grade of EPS referred to as geofoam is used in geotechnical applications including:
​

Retaining wall backfill
​

Road construction and widening
​

Bridge abutment and underfill
​

Culverts, pipelines and buried structures
​

Noise and vibration damping
​

Slope stabilization
​

Stadium and theatre seating
​

Under slab fill for ice rink floors
​

Landscaping and green roofs
Retail & Recreational Themes
EPS has also proved its cost effectiveness for recreational themes and retail. Due to its light weight and production versatility, EPS is used in the retail & recreation industry to create monuments, historical building replicas, point of sale displays and decorations. EPS can be molded, hand carved or custom cut with precision to create almost any shape as required. Furthermore several EPS shapes can be glued together easily to form larger objects. The final shape is then painted and/or coated to create the required theme without resorting to the use of heavy materials such as stone or cement or expensive skilled labor such as master masons.
Lost Foam
EPS is also used to create complex and precision metal shapes using a special technique known as lost foam casting. This process requires making the required metal shape in EPS. The EPS shape is then coated with refractory coating and placed in a casting flask that is filled with compacted sand. Molten material is then poured into the casting flask causing the EPS to vapourize leaving behind the required shape in precision cast metal. This is a cost effective method of creative precision metal shapes compared to the traditional wax casting.