Custom eps Cutting Yorkville ON - case study
The Perfect Lightweight Floor Levelling Solution for Toronto...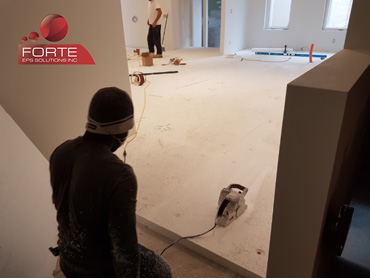 What do you do when you have a very uneven floor to level up which slopes off over 7" in an office building but that won't take the additional weight of self-levelling concrete - not even the lightweight versions?
Forte EPS recently came up with the perfect solution for an office building in Toronto's Yorkville district. The unusual problems to solve were that the floor was out of level by a full 7 inches from one side of the office to the other and the client needed to level the floor without creating a weight bearing issue on the existing structure. The solution also had to be cost-effective, avoiding having to tear down the whole floor / ceiling and starting again from scratch. Imagine the mess, disruption and additional expense that would have caused!
The chosen solution was to create a laser wave file which was used to custom cut 40 PSI EPS Foam (often mistakenly called StyroFoam) in 4'x4' sections and reverse slope the cut variation of levels to create a level floor surface.
The considerable benefits this innovative and lightweight floor levelling solution gave in Toronto were:
To insulate the floor, both thermally and acoustically
Staying comfortably below budget – Levelling floors with custom cut EPS foam is economical
A clean and speedy installation avoiding use of pumps and messy screeds or lightweight concrete
Very lightweight floor levelling - No structural alterations required to accommodate the extra weight a screed would have added
The option of adapting wiring runs by channelling into the EPS foam subfloor
Forte EPS, Toronto's premier Custom EPS Foam Cutters & Molders, believe this is the first time someone has used custom cut EPS panels to level floors on such a large scale, and they look forward to providing other innovative construction solutions to levelling, insulation or access challenges…
Watch the Forte EPS Solutions' Video of this Custom EPS Cutting Floor Levelling Project in Yorkville Ontario on YouTube:
​
​GET A QUOTE FOR CUSTOM EPS FOAM
​















​

​

​GET A QUOTE FOR CUSTOM EPS FOAM