Custom eps Foam Molding Toronto ON - case study
Custom EPS Foam Molding Takes Brains !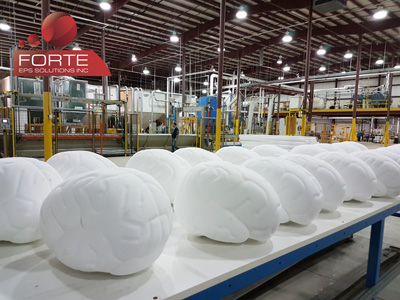 Forte EPS were recently chosen by The Brain Project to Custom Mold 100 smooth and paintable blank EPS polystyrene foam Brain shapes for The Brain Project's 2017 art inspired fund raiser. The Brain Project started in 2016 when its inaugural exhibit was shown across Toronto with the hope of starting a public conversation about brain health and bringing awareness to diseases like Alzheimer's. Artists from around the world transform the blank brain sculptures into beautiful, energetic and thought-provoking pieces of art which are sponsored by corporations and philanthropists, and displayed in more than 50 locations to raise funds for Baycrest Health Sciences.
As life expectancy is rising in Canada, unfortunately so is the prevalence of age-related diseases like Alzheimer's and other forms of dementia.
Baycrest is working hard to respond to this crisis. Funds raised through initiatives like The Brain Project allow Baycrest to conduct research, offer programming and support, educate the next generation of healthcare providers, and so much more.
Because no brain deserves to go blank. #noblankbrains
​

Forte EPS based in Ontario & Alberta were proud to use OUR brains for custom molding these EPS polystyrene foam shapes finished with a smooth, hard 2 part epoxy component with veil and primer - Ideal for the artists to create their masterpieces for this years' The Brain Project. We look forward to using our custom EPS molding experience to help your next creative project succeed. With Forte EPS's extensive custom EPS molding, CNC cutting and custom finishing abilities, if you can imagine it, we can create it. For bespoke small or large run POP displays, exhibitions, signs, you name it, we can help...
Watch the Custom EPS Foam Molding for The Brain Project here:
​
​GET A QUOTE FOR CUSTOM EPS FOAM