Custom eps foam cutting services Toronto- case study
INNOVATIVE SOLUTION in EPS FOR ELLISDON & THE TORONTO TRANSIT COMMISSION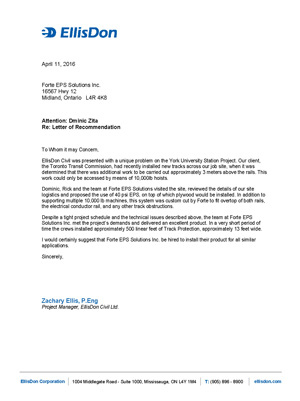 Forte EPS recently partnered with EllisDon Civil to provide an innovative solution for a potentially difficult situation at the York University Station in Toronto. New tracks had been installed but it became apparent that additional construction work needed to be carried out to the station above this area, necessitating the use of 10,000lb hoists to lift heavy materials. The challenge was to find a quick and competitively priced solution for building a temporary access platform so that the tracks and related items could be protected whilst providing a flat and safe supporting surface for accessing heavy machinery.
The ideal solution was designed and fabricated quickly by Forte EPS Solutions – by custom cutting 40 psi expanded polystyrene panels 13 ft wide to fit over the rails, electrical and other track obstructions. This solution enabled a rapid assembly and removal of a flat platform over an uneven base , assuring the integrity of the tracks and equipment, whilst allowing the additional work required to the station.
As EllisDon's Project Manager, Zachary Ellis kindly puts it:

Despite a tight project schedule and the technical issues described above, the team at Forte EPS Solutions Inc. met the project's demands and delivered an excellent product. In a very short period of time the crews installed approximately 500 linear feet of Track Protection, approximately 13 feet wide. I would certainly suggest that Forte EPS Solutions Inc. be hired to install their product for all similar applications."
Look to Forte EPS Solutions for innovative and cost effective EPS Foam temporary platform construction from Ontario's leading expanded polystyrene Manufacturers, including large scale custom EPS foam production and cutting.
​










​

​

​GET A QUOTE FOR CUSTOM EPS FOAM