THE LEADING POLYSTYRENE MANUFACTURERS
ONTARIO & Alberta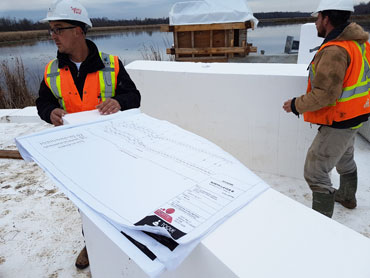 Forte EPS Solutions, Inc by Amvic is the Leading Manufacturer of premium Expanded Polystyrene products in the Greater Toronto area servicing the Insulation, Construction, Packaging and OEM industries throughout Ontario, Alberta and North Eastern USA. Our dedicated staff of professionals deliver value added EPS products including custom EPS foam profiles and shapes, with outstanding service based on our client's needs.
Our products include EPS foam for below and above grade High Density wall insulation, High Density roof insulation for above or below membrane, below grade drainage boards, Exterior Insulation Finishing System (EIFS) grade EPS substrate, EPS insulation for slab on grade, Geofoam billets and radiant floor heating EPS boards. Forte EPS also manufactures specialty EPS profiles and custom shapes for architectural moldings using a state of the art contour cutter. Our products are fully complimented by our engineering department for all technical matters and consultation, our sales and marketing department for pricing and quotation requests and our customer service department who look after our clients' orders to ensure their complete satisfaction in our EPS foam products.
Our Future:
Innovation is the lifeblood of any company. Forte EPS perceives promising opportunities in the construction, building and other industry sectors for specific EPS systems/ products and as such it is Forte's plan to expand its operations in terms of capital asset investments and professional expertise in order to be able to provide proprietary EPS systems to meet this demand. Please check our website frequently for new innovations that we introduce to our product lineup.
The Forte EPS Vision:
To be the number one choice for the supply of premium Expanded PolyStyrene products (EPS Foam) and technical support services in Ontario, Alberta and Eastern Canada because of our Unique Qualities:
Unique because of the buyers we serve.
Unique because of our Products.
Unique because of what our products/services don't do.
Unique because of our Quality Guarantee.
Our Mission:
To meet or exceed our customer's expectations in supplying them with quality EPS products or solutions, sound technical advice and outstanding customer service at the right price. Our professional plant operators and engineers work in collaboration with our clients in order to provide the optimum solutions through exchange of information, problem solving and innovation.
​

Testimonials from Our Valued Clients:
​"Having Forte EPS Solutions manufacturing EPS-Deck centrally located in Ontario brings the best ICF Flooring system to-date close to all North Eastern Canadian & US customers. This will cut the landed cost of an insulated floor at local levels and make for fast delivery turnaround."Ken Williams - EPS-Deck - the EPS concrete deck forms"It's one thing to come up and visit in the summertime and say nice things about Midland. It is something else to take your millions and put it into the ground here and say, 'I'm staying'."Mayor Gord McKay